John Hampden Grammar School Locker Extension
25 March 2013 | Jon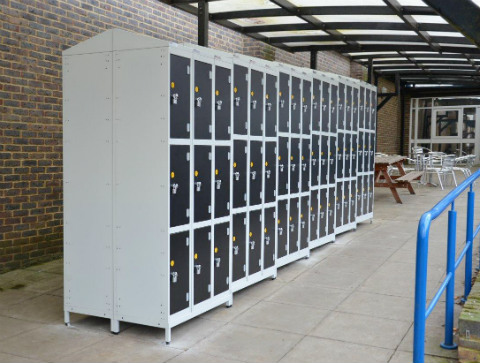 The first phase of an extensive locker installation for John Hampden Grammar School has just been completed by EZR Shelving.
This project was born out of the need for the School to incorporate an extra 324 locker compartments without impacting on usable corridors. With very little suitable space available indoors, alternative options were required. After a survey of the school site and a variety of ideas put forward by EZR, an existing covered access ramp was deemed to be the perfect place to install these new lockers.
The photograph above shows the final destination selected for the lockers. The 5% incline of the ramp posed an interesting challenge for the EZR design team who chose to work with a stepped solution, where each block of 3 lockers stepped down 50mm - creating a terraced house effect.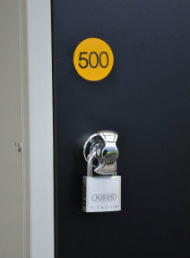 An accurate survey and tight manufacturing tolerances meant that although the surface was both inclined and uneven, phase one of the installation was installed quickly and efficiently.
Each row of lockers were installed in a back-to-back configuration to maximise storage capacity, using the lockers in this way creates enough space either side to allow people to pass-by the lockers when they are being accessed by students.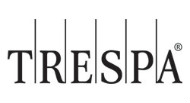 Black solid grade laminate doors were chosen for maximum durability whilst moisture resistant cam locks help to reduce future maintenance to a minimum. Yellow number inserts were used to identify each locker, each one inset flush with the door - a popular choice when using TRESPA laminate doors.
Although the lockers take immediate cover from the canopy above, they are still open to the elements. To combat this, all of the sheet steel parts in the EZR Splash locker range are finished with an attractive gloss powder coating that incorporates the Germ Guard antibacterial paint finish. This not only makes the insides of the lockers easy to clean, but also provides effective protection for the users against the spread of E.coli and MRSA.
Each locker is also fitted with a sloping top to stop rubbish, leaves and dust accumulation, this simple but effective feature is recommended on all external locker installations.
With another 216 lockers to be installed during the next two phases, this unique locker solution will completely fill the access ramp, providing plenty of storage capacity for students to benefit from. EZR Shelving specialise in supplying high quality school storage solutions in any environment, please call 01993 779494 to discuss your school's specific storage needs.