Laptop Storage Solution For Bristol Skills Acadamy
27 August 2010 | Andrew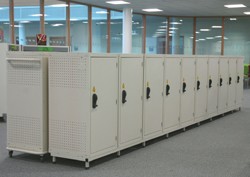 EZR Shelving has supplied the Laptop Charging and Storage solution at the new South Bristol Skills Academy.
Part of City of Bristol College, the skills academy is a new state of the art facility costing over £30m.
Secure laptop storage and charging is a fundamental aspect of the new Learning Resource Centre (LRC), which will house 380 laptops that the students can sign in and out.
The new LRC is a long way from a traditional college library, covering two floors; it's ideally located next to the college canteen so students can grab a coffee and learn in their free time.
The laptop storage solution includes 20 laptop charging cabinets and 18 laptop charging trolleys enabling laptops to be moved from the LRC to the classrooms.
Laptop storage units are fitted with electronic Salto locks that are accessed using a programmable key card providing improved security.
Laptop storage cabinets are raised of the floor so that power cables can be connected to floor boxes ensuring that there are no trailing power leads. Laptop lockers and laptop trolleys will each accommodate 10 laptops providing charging and secure storage facilities.
Contact us to discuss a laptop storage solution for your school or college: Call 01993 779 494 or email sales@ezrshelving.com.