Levis Flagship Store Under Water In Regent Street
15 March 2012 | Jon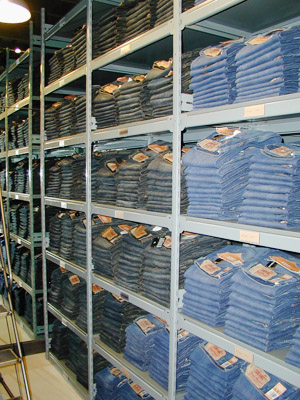 Time for Wellington boots last weekend as the Levis flagship store became flooded with 6 inches of water, luckily there was only minimal damage and disruption and the store was soon back up and running.
Our Type 1 heavy duty racking stood up to the test, with racking units that stand at over 9ft tall in the stockroom, a high percentage of the stock could remain in place with only the bottom shelves needing to be emptied to keep the stock protected from the rising water level.
Take a look at the photographs taken just after our original installation, the stores area actually became a visual feature of the store, allowing customers to see the thousands of pairs of jeans in stock. Our industrial grade Type 1 shelves with their aesthetically pleasing design really helped to make this a truly unique storage solution.