Lateral Filing Solution For LilesMorris
5 September 2016 | Jon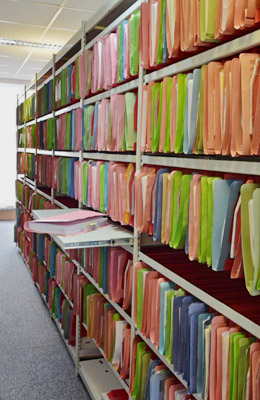 A recent project completed by EZR Shelving has provided a high density 'hidden from view' file storage solution for LilesMorris chartered accountants.
Having just moved into new premises, the team at LilesMorris were looking at ways to condense their client files into one main area whilst still retaining quick and easy access.
Traditionally offices use a number of steel filing cabinets with pull-out drawers. These provide a practical way to store paperwork but they are rather limited in capacity and do not allow more than one drawer in a column to be accessed simultaneously. A much better solution is to use full height shelving bays with lateral file beams, this way all of available ceiling height can be used to store many more documents - with full access to every file, by as many people as required.
The photograph here shows the lateral file racks installed into LilesMorris' new offices. With six storage sections per bay and a run of just under six metres, this solution provides storage for up to 1000 file holders.
Despite the rise of computerised filing, there is still a huge requirement for storing paper documents - especially within accountancy and law firms. Lateral filing pockets (where files can be pulled out from the front) offer a quick and convenient way to frequently access paperwork and are used throughout this solution.
To save staff members from having to return to their desks to open and read the files, roll-out shelves were incorporated into the storage racks at two convenient locations. These reference shelves do not impact on the capacity of the system yet make document viewing so much easier.
Although lateral filing is very compact and efficient it is not always suitable for the files to be on display in the office, especially if you have clients visiting the premises on a daily basis. LilesMorris were interested in finding a way to remove them from sight but not at the expense of accessibility.
The EZR Shelving design team found the perfect solution by installing back and side cladding to the file racks, creating the effect of having something similar to a partition wall. As you can see from the image below, the lateral files are completely hidden from view but still remain very accessible from either end. Lateral file shelving in this style provides a cost-effective way to store large volumes of files in office locations.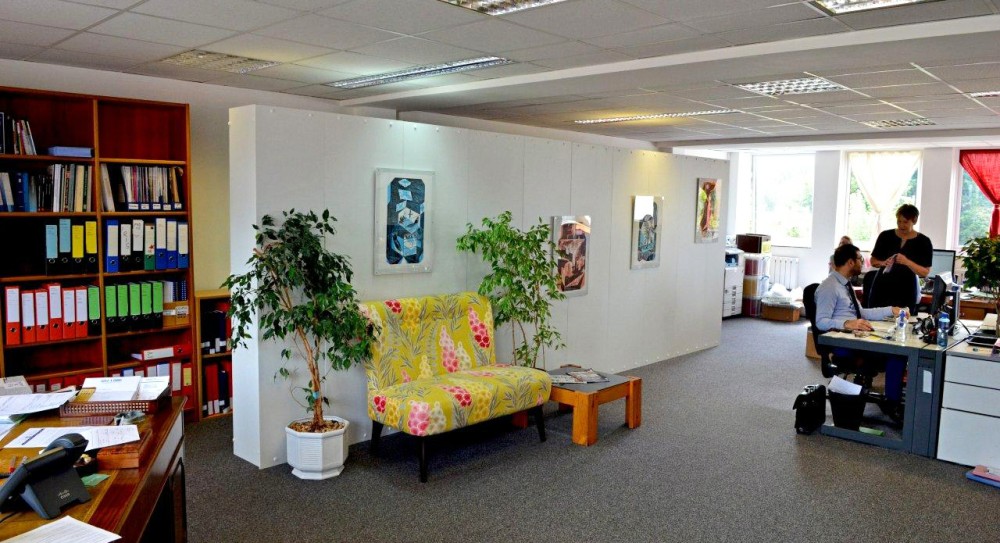 What is the difference between vertical and lateral suspension files?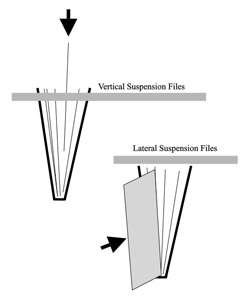 Vertical suspension files are most commonly used in filing cabinets with pull out drawers, paperwork is placed into and removed from the file holder from above (see illustration left). Label tags are mounted to the top of each pouch.
Lateral files are used within filing cupboards and storage racks. The wallet hangs down below the support rail so that files can be accessed from the side (which is actually the front), labels are attached to this end also.
Call EZR Shelving today on 01993 779494 to find out more about their range of high density file storage solutions.