New Product Range: Media Tower Lockers
15 April 2013 | Jon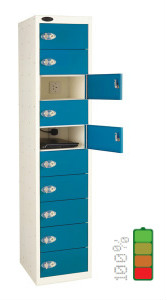 We are pleased to announce the introduction of our new range of Media Tower lockers into our ever expanding range of laptop storage products. These new units provide secure storage for laptops, netbooks and tablet computers and are available as either standard or charging lockers.
Choose from 8, 10 or 15 compartment lockers to suit your requirements, each locker features an all steel construction and a vented area at the rear of each compartment to help reduce overheating issues.
Each compartment in the Media Tower charging lockers includes a UK 3 pin socket for the safe charging of your media devices.
A practical and affordable storage solution perfect for schools, colleges and other training establishments.
View our full range of Laptop Storage Products online.