Mobile File Storage Solution For Dashwood Brewer & Phipps
17 March 2014 | Jon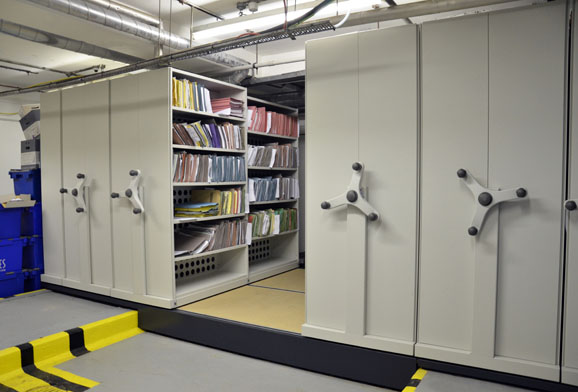 A recent mobile shelving installation by EZR Shelving has provided Dashwood Brewer & Phipps Ltd with a bespoke mobile shelving system to help them centralize their loose file storage.
Dashwood Brewer & Phipps are a Lloyd's Broker that places U.K. and International Insurance and Reinsurance business in the London and International Markets. Having recently moved to a new location in the city of London, they were keen to invest in the right storage solution that would provide them with enough storage capacity for their existing and future file storage requirements.
All of the existing filing at the previous premises was spread over several floors. To group everything together into one storage area the new shelving system needed to be easy to use and provide a minimum capacity of 250 linear metres for loose files.
Unfortunately storage space available at the new premises was very limited. A disused plant room had been identified as a possible storage space but large concrete plinths in the centre of the room disrupted plans for standard shelving systems.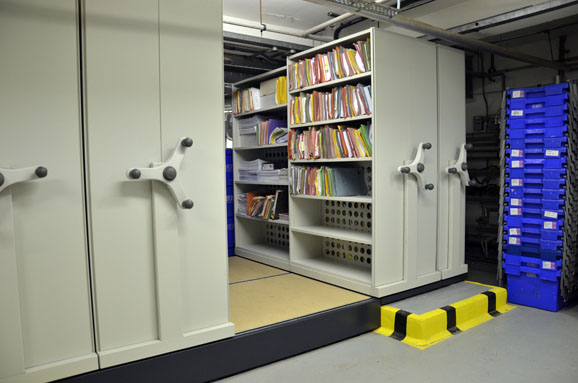 Instead of seeing the plinths as an obstacle, EZR used their expertise in design to incorporate them into the overall solution. By fitting a mobile shelving system on and between two of the 160mm high concrete plinths, the EZR team were able to design a track and floor system that could bridge between the two plinths - much like a railway viaduct.
The design worked perfectly, providing a strong and secure floor structure and a level platform for the mobile shelving system to operate correctly. Shelving bays of different heights were used to maximise storage without touching any of the pipes and tubes and fittings attached to the ceiling.
The final bay located on the right of the mobile shelving is single-sided and features a lockable hand-wheel for security when closed, when the mobile unit is fully locked-up a good sized walkway is retained to give easy access to the rear sections of the room.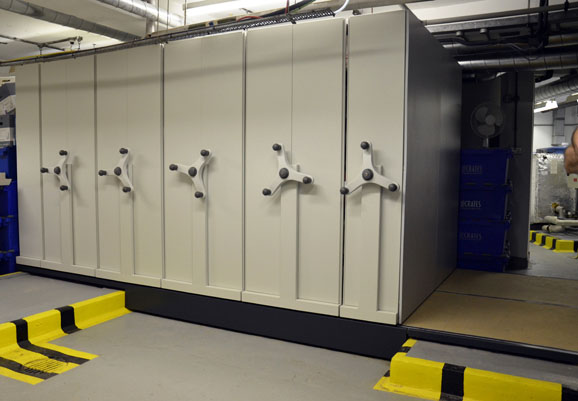 Perforated shelf backs were chosen to allow air circulation and encourage natural airflow and ventilation, this helps to reduce moisture build-up - an important consideration when storing large quantities of paper files.
The end result provided the customer with increased storage capacity for archive files and made use of an otherwise unusable space. This example demonstrates how thinking 'outside the box' can create outstanding storage solutions for any business need.
Contact EZR today to find out how more about their range of mobile shelving systems on 01993 779494.