Mobile Packing Benches
27 January 2014 | Jon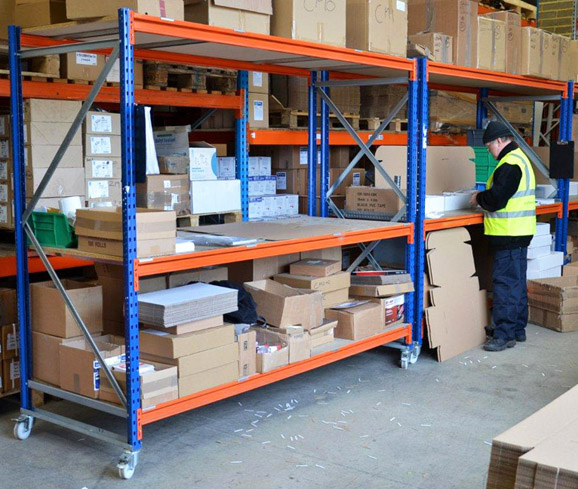 Having practical and versatile storage equipment within your warehouse, factory or stockroom can make a huge difference to how quickly and efficiently tasks can be completed on a daily basis.
Our Longspan shelving trolleys create a really useful piece of equipment that can be used as both static shelving for bulky items or boxes of components and a mobile trolley that allows items to be easily wheeled between picking, packing and assembly locations.
The photograph below shows how this type of trolley makes a great mobile workbench and/or packing bench that could be utilised in a wide range of environments. Smooth rolling wheels allow you to move the trolley to exactly the right place for selecting stock whilst adjustable shelves can be placed at the perfect height to reduce the effort taken to manually shift boxes or heavy goods. The lower shelf shown on these units is the perfect place to hold packaging materials and common components such as nuts and bolts, substantial time savings can be made by simply having everything to hand in these circumstances.
Once all the stock is picked, you can take all of your components to a convenient location to continue assembly or packaging tasks. Mobile wheeled packing benches negate the need for a dedicated packing area so more space can be used for additional storage you can even take the work outside, ideal on a nice Summer's day!
Longspan Shelf Trolleys are available in a selection of standard sizes to suit any application. Buy online or call us today on 01993 779494.