Mobile Shelving - A Blast From The Past!
7 February 2013 | Jon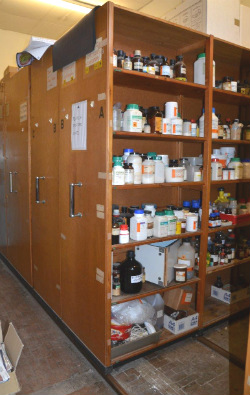 During a recent visit to a new client our survey team discovered this antique wooden mobile shelving system tucked away in the corner of a science prep room.
Despite being approximately 40 years old, this roller racking system is actually in perfect working order and still providing easy to use high density storage for a range of chemicals and classroom supplies.
Although the basic principles of mobile shelving may not have changed much over the years, the technology and features certainly have. New mobile systems can now be specified in a wide variety of styles complete with computer controlled electronic movement, rotating hand wheels, fully adjustable steel shelves and even decorative end panels.
Seeing such an old system in use perfectly demonstrates how choosing the right storage solution can pay dividends in the long run. We always encourage customers to plan ahead and purchase storage solutions with enough storage capacity to cope with future demands.
This client will benefit from even more storage space when their brand new EZR mobile shelving system is installed into a neighbouring room later this week. View our Mobile Storage Shelving page for further information or call us on 01993 779494.