Mobile Shelving Conversion For DLR
31 July 2015 | Jon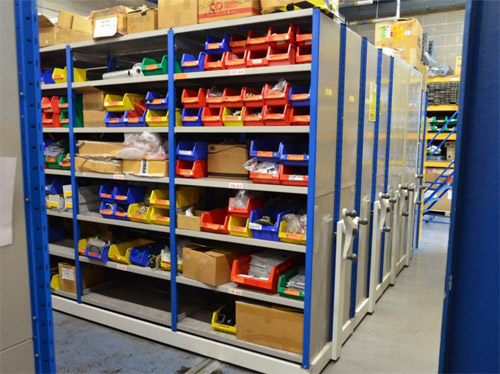 A recently completed project by EZR Shelving has transformed the main stores area for DLR.
The train care depot at Beckton is responsible for maintaining and servicing the trains and carriages operating on the Docklands light railway. Within this depot is a large engineering stores facility full of assorted nuts, bolts, screws and spare parts.
With so many components to store, it is essential that everything is held within one central location and organised correctly - this helps engineers to quickly find the parts needed.
The storage area was already full of static shelving but more capacity was required. To keep all of the shelving within the same part of the building there was only one choice: to convert some of the existing shelving to mobile. Because the existing shelving was relatively new and in good condition, a mobile shelving conversion was deemed to be the best solution in this instance. Because mobile shelving systems remove the unused aisle space, extra capacity is created for more shelving bays to be fitted.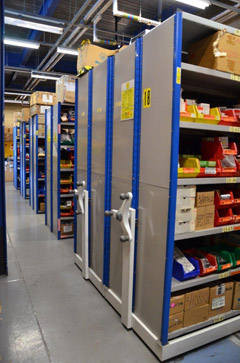 The EZR mobile chassis base can be made to fit just about any steel shelving system thanks to its modular design.
Posts are bolted down onto the mobile framework in much the same way that they would be fixed to the floor. This creates a stable platform that can cope with the heavy loads and the lateral movement.
Each rolling chassis benefits from a rotating hand wheel which drives a chain and gear mechanism to effortlessly move each shelving run, providing quick and easy access to the next aisle.
Around half of the racks were converted to mobile shelving in this project, in the future the DLR depot can choose to mobilise the other static shelving bays if and when extra storage capacity is required.
To find out more about how similar solutions can improve your business please call EZR Shelving on 01993 779494.