Mobile Shelving: Frequently Asked Questions
4 April 2019 | Jon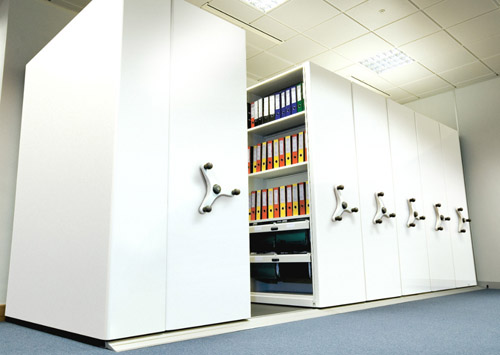 If you are interested in making the move from conventional static shelving to a more advanced mobile racking system, you probably have some queries.
See below a collection of frequently asked questions regarding these space-saving storage solutions, if you need any further help then please contact us.
Q: What is a mobile shelving system?
A: Put simply, mobile shelving (also known as roller racking) is standard static shelving mounted onto a special rolling carriage that runs on floor mounted tracks. Because the rows of shelving can move, you can close them all up when not in use to save valuable space. Therefore, you only need one access aisle for the whole system rather than one for every row with static shelving.
Q: Can I convert my existing shelving into a mobile system and if so, how much extra capacity can I expect?
A: Virtually all shelving systems can be converted to mobile as long as they are structurally sound enough to cope with the added forces that a mobile system will exert. With regard to space-saving, It depends how optimised your original shelving system is but in general you can expect to gain between 50 and 100% storage capacity.
Q: How much does mobile shelving cost?
A: This is a tricky one to answer, we have kit prices for standard mobile shelving kits but 90% of all of the mobiles we supply are not standard and are based around each clients unique requirements. As such, it is very difficult to give guide prices until we have seen the room available and discussed exactly what the customer needs. Also remember that by installing a mobile system you will have more storage capacity which in turn, will save you the extra expense of moving to larger premises or renting remote storage areas.
Q: Are mobiles permanently fixed to the floor?
A: The office based 'System R' shown in the photo above does not need fixing to the floor because the raised floor panels hold the tracks in place. The low-profile track used with chassis bases (used for stockroom/industrial mobile shelving) does need to be fixed to the floor for safety reasons and to maintain parallel rails for smooth operation. Whichever system is used, it is totally feasable to move them should that be necessary in the future.
Q: How are mobile racks operated?
A: The most common operation is via rotating handwheels or plain grab handles. Handwheels provide a chain driven mechanism that makes the movement of large racks almost effortless, whereas standard handles provide a cheaper alternative that works well for smaller, lighter systems.
Q: Are mobile storage systems just for offices?
A: Certainly not, we supply mobile systems to all kinds of industries. Delta edge style office shelving is certainly a popular choice but we can also mobilise stockroom shelving, heavy duty racking and even hanging garment racks.
Q: Can they be any size I want?
A: We can design systems that fit within a given space or to your specification but we do have to work within the limits of the shelving system selected. Saying that, we are very flexible with our solutions and can usually create bespoke options when needed.
Q: Can I have roller racking on my mezzanine floor?
A: This is possible but you must ensure the flooring is able to cope with not only the extra weight of the racking system (including floor tracks and chassis bases) but also for the total amount of goods being stored upon it.
Q: How do I get a mobile shelving quote?
A: Send us a brief of what you are trying to achieve that includes the size of the room and the products you need to store. Once we have this we can make some recommendations and send you a quotation, in some cases we may need to survey your site to give an accurate quotation.
If you have any further questions that aren't covered here, or if you would like to discuss an upcoming project please contact us on 01993 779494.