Mobile Shelving Solution For Westminster Cathedral
11 November 2013 | Jon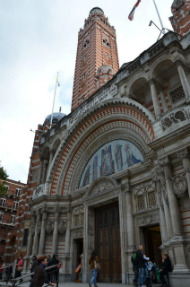 Many EZR projects are completed in and around central London but none of them until now have been installed into such a prestigious building as Westminster Cathedral.
This 120 year old building is actually built upon the old Tothill Fields prison site that used to house around 900 inmates. In 1884 the land was sold to the catholic church in preparation for the building of what has become one of the capital city's most iconic buildings.
Westminster Cathedral houses a much renowned and respected choir school that has been producing talented young singers for decades. Their extensive collection of paper music required consolidating into one music store located at the rear of the Cathedral. This is where EZR stepped in to help. Mobile shelving units were suggested as the most cost-effective and practical solution to store all of the music within a previously under-utilised store room.
Specially designed boxes to suit each different size of sheet music had to be catered for within this solution. Shelf depths were created to perfectly suit the cardboard boxes, optimising the overall stock capacity.
Careful consideration had to be taken with regard to the potential damage caused by UV light coming in from the large window in the room. The EZR Shelving team cleverly designed the mobile storage system in a way that protects the documents perfectly from direct sunlight when the unit is in its closed position.
The tracks that allow each of the storage bays to glide effortlessly via rotating hand-wheels did not require fixing to the floor - protecting the well preserved parquet flooring. With no floor fixings, the storage system can also be easily relocated to another room or building if required in the future.
The music school now has a centralised high density music store that will last for many years to come, providing quick and easy access to countless music documents. As the collection continues to expand, the adjustable shelves can be moved to cope with any size and style of media.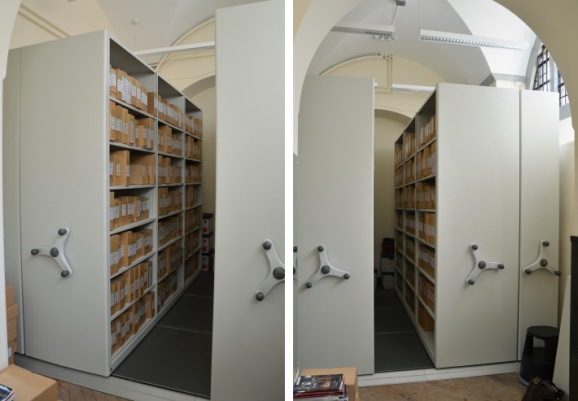 This project is just one of many high quality mobile installations provided by EZR Shelving, if you have a storage area that could benefit from mobile shelving or roller racking then please call 01993 779494 to discuss your requirements in detail.