New Product Range: Cold Store Shelving
14 May 2013 | Jon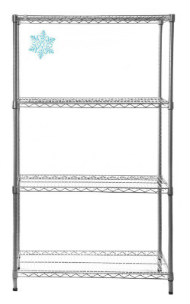 Our new range of commercial grade cold-store shelving is now available to buy online. This fantastic new product is suitable for use in below zero storage and adds to our comprehensive range of wire shelving units.
This type of shelving is an ideal solution for chilled or frozen food storage environments thanks to an anti-bacterial additive that helps fight bacteria for up to 10 years, a hard wearing resin coating also protects against corrosion.
Wire shelves encourage natural air circulation and resist the build up of dust and debris that can occur in a store room. Our cold-store shelves benefit from a very high load capacity of up to 300kg per shelf - exactly the same as our standard Chrome Shelving and the simple bolt-free design means provides quick and easy assembly.