Newport Council Archive Solution
16 May 2014 | Jon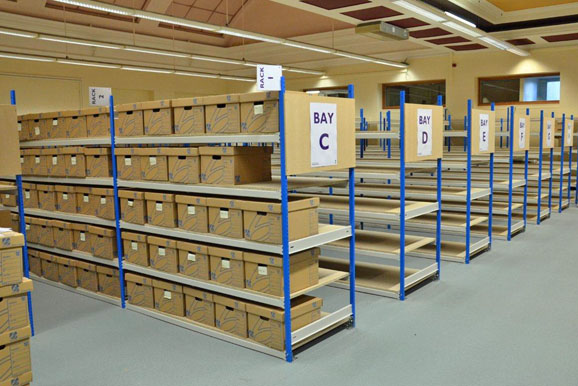 A recent installation by EZR Shelving has provided storage space for over 2,500 archive boxes inside a new document store for Newport Council.
With an ever expanding collection of archived records that were being stored in an expensive off-site storage facility, the council needed to look for a more permanent solution that could cope with their current and future storage demands.
The answer lay in an old 'rates' room within the council building. This open plan area proved to be the perfect home for storing the archive records and with EZR supplying and installing the shelving, Newport council now have a high density storage solution that removes the need for remote storage.
The system used to create the archive system makes use of E-Z-RECT Widespan shelving to provide maximum storage capacity whilst retaining quick retrieval rates. The 5ft wide spans let five of the council's archive boxes fit neatly on each side of the shelf, making the most of the clear entry width created by the Trimline system.
Double depth shelving bays were used so that boxes can be accessed from either side, configuring the racks in this way is the most cost-effective solution. To make use of all the space, single depth bays were also installed at either end of the archive room.
This is just one of the many archive solutions that EZR Shelving provide to Councils and Government agencies across the UK, if you have a requirement for archive storage shelving call 01993 779494 today to find out more and to obtain a free quotation.