Real World Stockrooms: Part 1
19 April 2013 | Jon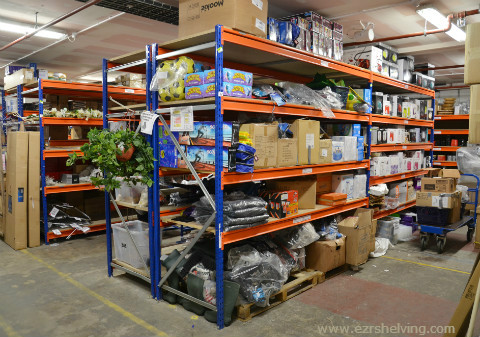 The first in our new series of posts starts with this glimpse into the inner workings of a popular multi-chain retailer's stockroom.
This retailer uses Longspan Racking to provide easily accessible heavy duty storage for their comprehensive range of goods. Longspan is ideally suited to storing heavier stock items thanks to its high shelf load capacities and wide spans.
The adjustability of the shelves has allowed shelf heights to be set to suit the stock profiles, this increases stock capacity by reducing the wasted space that occurs when shelf levels are set in a uniform manner.
The photo opposite shows how some racking bays leave a large gap between the floor and the first shelf to store small pallets and heavy boxes , whilst others make use of extra shelves. This combination of storage options is essential in creating practical and efficient stockrooms. Careful planning and design can ensure the solution is 'right first time' and capable of adapting to ever changing stock profiles and seasonal fluctuations.
The full ceiling height is utilised within this stockroom, the top shelf of the racking is used to store lighter boxes stacked until they are nearly touching the ceiling. This use of high level storage makes a big difference in the overall stock capacity of the room and the stock is easily accessed by staff with the aid of small step ladder.
Transporting goods in and out of the stockroom can become awkward and time consuming when dealing with heavy or bulky items, this retailer utilises heavy duty platform trucks to help move stock between goods-in, stock locations and the shop floor.
Keeping a stockroom tidy and organised is always going to be difficult when you have a large range of products on offer but it is essential that you have enough good quality racking that can cope with your existing and future stock requirements.
If you would like to discuss your own stockroom storage requirements, please call us on 01993 779494.