Two-Tier Shelving Solution For R J King
8 July 2016 | Jon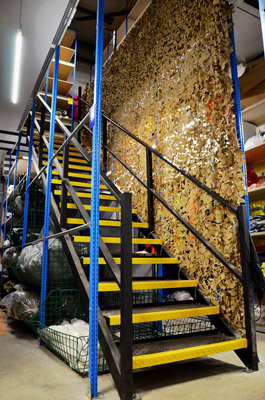 EZR Shelving have recently completed an extensive 2-tier stockroom shelving system for scrap metal dealers, R J King & Sons in Farrington Gurney - just south of Bristol.
Admittedly, stockroom racking isn't the first thing that comes to mind when you think about how a scrap metal business operates, more commonly you would see heavy duty pallet and cantilever racking on site. However, R J King is the kind of company that embraces change and diversity. It is this ethos that has seen them survive difficult times in the scrap metal and car recycling markets over the past 60+ years, and makes them ready for a new era of online commerce.
Buying containers full of clearance line goods has now become an important part of the business and one where extra investment was needed to operate successfully. Sitting on a half acre site, the business is easily capable of holding a large number of shipping containers but a dedicated stockroom building was needed to sort and house the goods efficiently ready for order picking.
A significant investment has been made to turn an existing unit into a fully kitted out stores area, with an increased ceiling height and brand new floor fitted - along with the extensive two-tier shelving structure shown here.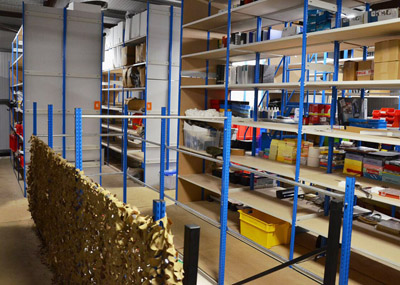 EZR supplied a commercial grade two-tier shelving system complete with heavy duty staircase, providing high density storage that makes use of the full ceiling height. By having an easy to access upper floor storage area that essentially mirrors the ground level, more goods can be fitted within the building without compromising usability. The multi-tier structure is built using strong E-Z-Rect Trimline shelving frames with doubled-up posts for extra strength and stability in key areas.
As you can see from the photos here, army surplus supplies have played a big part in the business' initial online success. Forces equipment in itself can be quite varied, everything from army clothing, boots, gas masks and even smaller items like survival knives and camping accessories need to be stored correctly. Add in the new ranges of stock that include office supplies, tools, security equipment, hi-viz jackets and even crockery and glassware and you have one of the most varied stock profiles ever seen.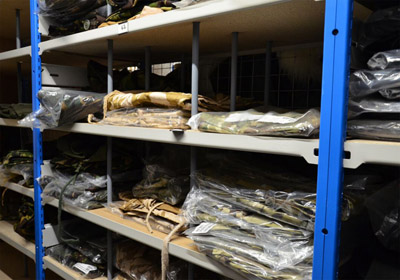 The modular design of the Trimline shelving allows multiple combinations of racking accessories to be used together. This storage solution makes use of large shelf openings to accept slat wall sections or mesh grid panels, divider rods (shown right) to create stock partitions for clothing, hanging rails for jackets/coats and end panels to help retain stock. Many of these features are adjustable and interchangeable between bays, this is essential in helping the business cope with the content of the next container - whatever that may be!
With the stores area finished, containers can now be emptied, sorted and stored away neatly ready for order pickers to prepare online purchases for dispatch. Four containers have already been emptied and there is easily space for another 4 to 5 containers worth of goods.
Although the majority of this 2-tier shelving construction is brand new, EZR also made concessions for some of the company's existing storage items. Large plastic stacking containers were utilised within the awkward space under the stairs whilst space was left on floor level shelves to house wooden drawer units.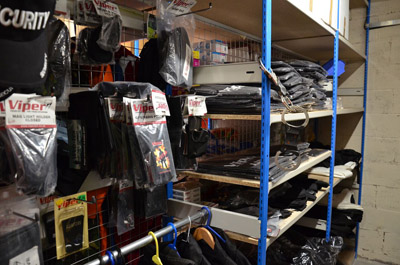 Making use of every inch of space was an integral part of this project, the EZR design team were meticulous in their approach to creating the best possible storage solution for the space given. Extra overhead shelves were even inserted between racks in the aisle, maximising the space to give extra usable capacity.
The owners of R J King & Sons are very pleased with the end result and now they have the stockroom completed they are in a great position to push forward with their new online retail venture.
If you have a requirement for stockroom shelving please contact EZR Shelving on 01993 779494.
Visit the R J King website to find out more about their range of services.