Roller Racking With A Place For Everything!
9 September 2010 | Andrew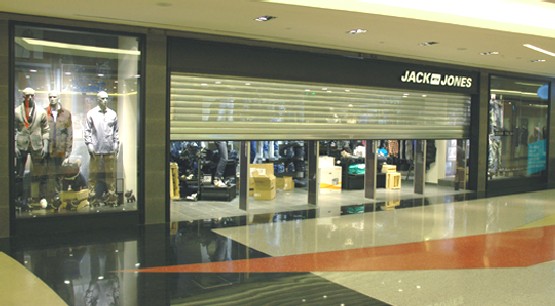 Jack & Jones opened its new store in Venice with a bespoke roller racking solution in the stockroom supplied by EZR Shelving.
Sales floor space was increased by using a roller racking stock system to reduce the size of the stockroom and EZR Shelving's design provided a place for everything.
Mobile stockroom shelving is widely used in retail stockrooms and Jack & Jones new store in Venice enjoyed a bespoke stockroom solution for hanging and folded garments, pre-retail desks and space for spare shop fittings.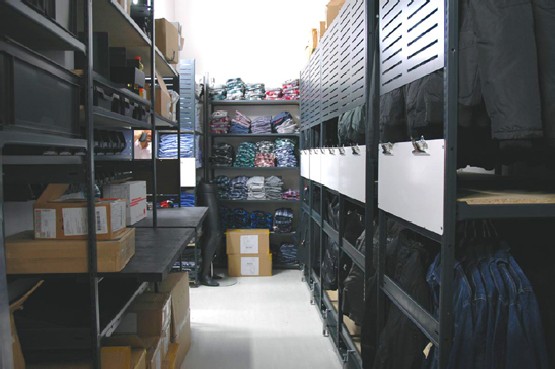 EZR Shelving developed a stockroom storage solution that provided a place for everything giving maximum stock capacity within the smallest possible space.
The roller racking system has steel slat panels attached to the ends that can accept storage prongs. This is used for storing small items of stock and spare fixtures, wipe boards beneath are used for staff notes and easy stock identification.
The pre-retail desks provide practical space for stock folding and preparation with plastic bins for storing tags and labels. A magnetic back panel was also included to hold delivery documents and stock sheets, helping to keep paperwork from getting lost during busy times.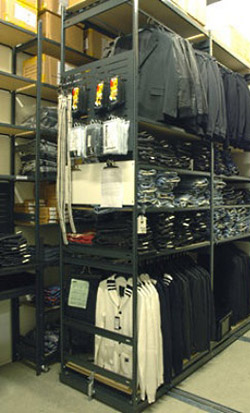 The stockroom shelving is designed around the stock sizes so that stacks of shirts fit perfectly on each storage shelf
Staff lockers are provided with the company logo embossed into each door and retail steps provide easy access to the higher stock levels.
Stock racking and lockers are finished in special colours in line with the brand image so that the stock system also looks good.
Contact us to discuss how we can increase your storage capacity: Call 01993 779 494 or email sales@ezrshelving.com
We offer a free design service and we would be pleased to arrange a site visit to discuss your requirements.