End Of An Era For S4C's Archive
4 March 2019 | Jon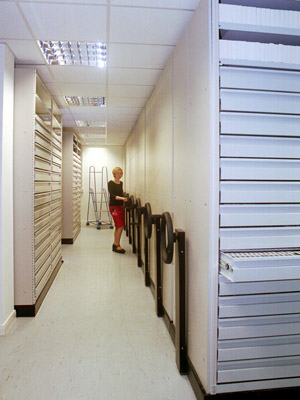 It is over 20 years since we installed a large scale shelving system for S4C but now the archive must move with the times and finally take the leap into the digital age.
If you are not aware, S4C broadcast TV shows in the Welsh language, - covering everything from documentaries and interviews to musical, political, children's and cultural programmes.
S4C's archive department in Cardiff required a very specific type of storage system that would house their huge collection of archive tapes (the medium of choice for storing film and TV content 2 decades ago). The project used a combination of static and mobile shelving units to maximise the archive's capacity. EZR Trimline shelving frames were used throughout with bespoke drawer units that perfectly suited the archive tapes (over 100,000 of them are within the archive) to reduce wasted space. A nice touch within this project are the decorative end panels that do a great job of hiding the end frame structures, this along with the soft grey metalwork and matching drawer fronts give this installation a real high quality look and feel.
As a testament to the build quality of both the shelving and mobile bases used in this project, there have been no reported mechanical issues since the initial installation all those years ago.
Fast forward to the present day and sadly the old tape archive seems somewhat out of date, not lending itself to modern methods of access. S4C's plan is to digitise the entire library of content (around 52,000 hours of programming) and eventually make as much of it as possible available via a website or online portal.
If you have an unusual storage project that you are planning, why not give us a call on 01993 779494 to discuss the many options available to your business.