Shoe Racking Solutions For Retailers
26 November 2019 | Jon
Shoe retailers have been benefiting from EZR's industry leading commercial grade shelving for many years. Many of the leading high-profile shoe brands, multi-channel retailers and independent shoe stores use EZR Trimline storage shelving to help maximise their shoe storage areas.
The E-Z-RECT Trimline system provides an easy to use and cost-effective storage solution that is geared towards retail stockroom applications. The system's key features of slim posts, narrow beams and maximum clear entry shelves really pay dividends when storing large quantities of shoe boxes within a retail stockroom environment.
Shoe storage itself brings some difficult challenges when it comes to storage. With the sheer number of designs and sizes that need to be held in stock, shoe storage can take up vast amounts of storage space that even the largest stockrooms can struggle to cope with. One of the most popular ways to combat this problem is to install mobile shelving, these movable units provide high density storage that condense many hundreds of shoe boxes into an area approximately half the size taken up by conventional static shelves.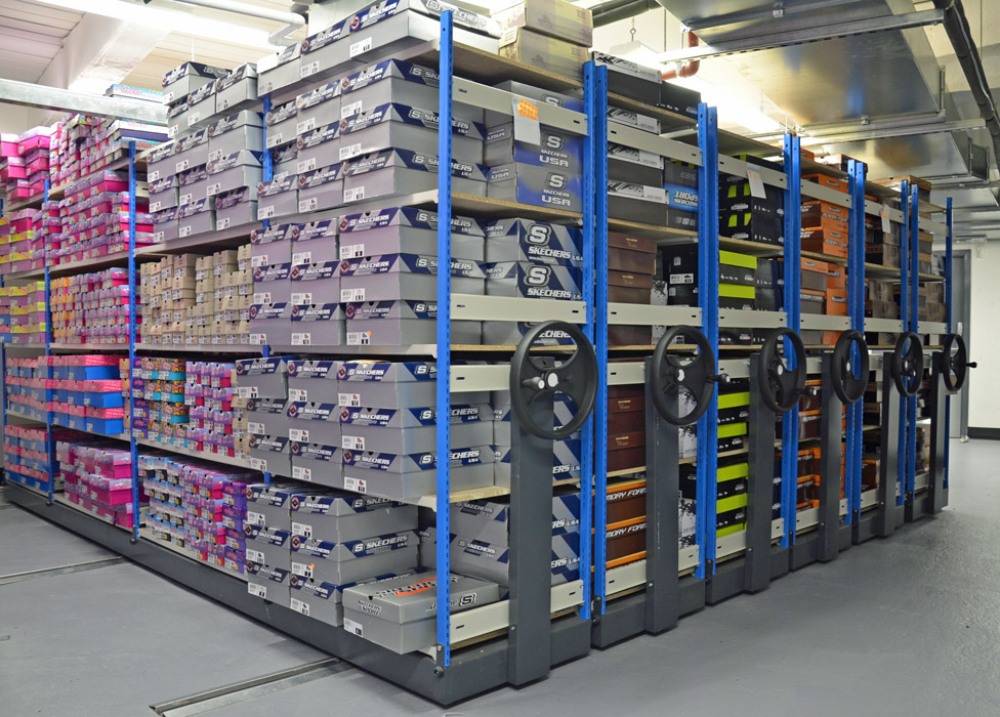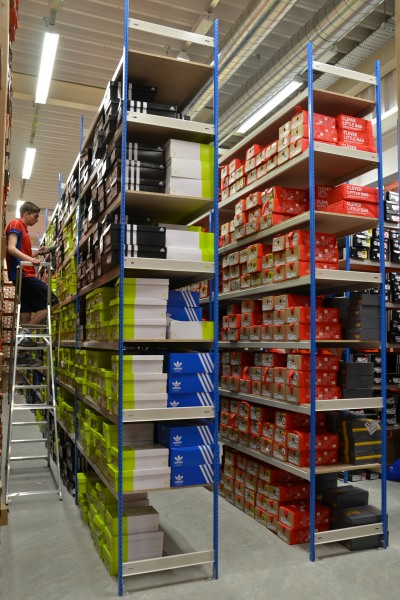 Mobile shoe racking systems still retain easy access to the goods. The system shown (left) stores around 3000 pairs of shoes in a relatively small space but access to any section is achieved with a simple turn on one of the rotating hand-wheels. As you can see, a mobile racking system can really help to alleviate the growing demands on retail stockroom space.
Another option for increasing storage capacity is to use more of the available vertical space in the stores area. By utilising the full height of the stockroom, shelving can be easily constructed at heights of 10 or 12ft as in the photograph (below-right).
This style of shoe storage allows you to stack boxes in distinct columns or in large sections for easy stock identification and logical size ordering. Access to the higher shelves requires only the use of a sturdy pair of steps.
It is not uncommon for a shoe retailer to want to include some stock on the shop floor - this allows the most common sizes of shoe to be readily available for customers to select and try on. In these instances, the same static shelving that is supplied into back of house areas can be used as a dual purpose display and storage system. The photo (shown right) demonstrates how a children's shoe retailer makes great use of Trimline shelving in a retail setting, even the awkward under-stairs area has been filled with stock to make the most of every inch of space.
The examples shown on this page are just a few of the many shoe storage projects the EZR team have completed. No matter what size of business you have, a fully integrated and well designed shoe storage system is easily achievable within your budget.
Contact EZR Shelving today on 01993 779494 to find out how an industry-leading storage solution can help improve your stockroom or warehouse.