Sir Stirling Moss' Mobile Shelves
4 April 2013 | Jon
Twenty years after the installation of High Density Mobile Storage at Sir Stirling Moss's state of the art Mayfair home, Andrew Musty re-visited 46 Shepherd St. to see how the mobile shelving systems have stood the test of time.
There are few better examples of how important it is to utilise all of the available space than in Stirling's 5-storey house, office and motor racing museum; the term 'space is at a premium' is certainly not overstated here.
Having bought the bomb damaged plot in 1961, Stirling was instrumental in the design of the 2500 sq.ft. house renowned for its innovative features including a hydro-electric table that moves from the kitchen to the dining room on the floor below, and the now infamous carbon fibre lift built by the Williams F1 team.
Stirling has enjoyed a lifelong passion for innovation and technology and some of the features integrated into the house in the 1960s were several decades ahead of their time. His attention to detail is unscrupulous and as a Fellow of the Institute of Engineers Stirling is an advocate of quality, which does matter, now more than ever!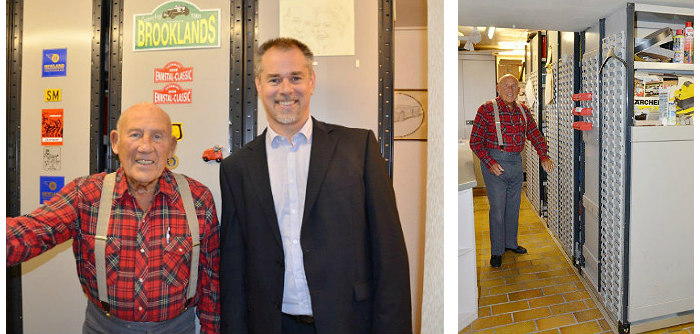 Space saving roller racking systems are used in the garage and basement store room for household storage, including Stirling's model train set. The moving shelves double the storage capacity that is possible with conventional shelving; three moving shelving units can be rolled to the far end allowing two cars to fit into the garage, essential if guests arrive by car.
The garage is being updated as part of Project 46; the mobile shelving is in perfect working order and just needs lubrication.
"I can't believe it is 20 years since those fantastic moving shelves were installed! They are just as good as the day they were put in. The garage is being tarted up, but the shelf system only needs a bit of WD40 and it will be as good as all those years ago!" said Moss.
Andrew Musty, who has been involved in the design and manufacture of space saving mobile shelving systems for over 25 years, rates being driven around Silverstone's Grand Prix circuit by Stirling Moss as one of his fondest memories; "being sat next to Stirling Moss at Silverstone was amazing" recalls Musty, "but the journey from London to Silverstone was just as impressive. Stirling processed information like a computer, gliding through the traffic around Hyde Park corner; a mere glance was sufficient to 'clock' the surrounding vehicles and we passed through the traffic as if we had blue lights on the roof! Stirling is a racing legend and a true gentleman."