Spotted In The Press: Brompton's EZR Trimline Shelving
27 July 2013 | Jon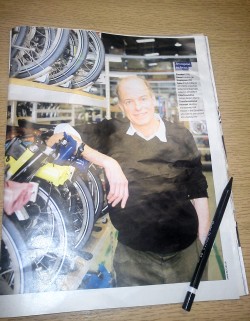 One of our eagle-eyed members of staff spotted our Trimline Shelving systems within this Daily Telegraph feature from the 20th July.
The article talks about the huge success of the cleverly designed Brompton Bicycle: from its humble beginnings to annual turnover approaching £20 million.
However, here at EZR we are pleased to see our popular mobile Trimline shelving bays are still being put to good use, these practical shelving units have been in place for several years at Brompton - helping to store and transport bicycles during the production process in their west London factory.
View our solutions page to find out more about our extensive range of cycle storage solutions or contact us for further information.
Here are some more photographs taken from our original Brompton installation: