Sprinkler Compliant Shelves For Oxford Shoe Retailer
5 June 2018 | Jon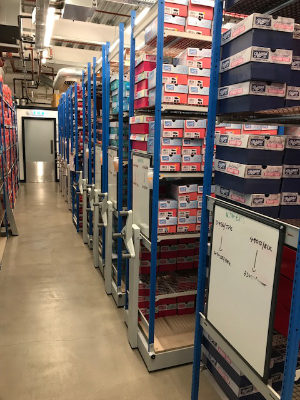 The majority of shelving units that we supply use chipboard (or MFC) decks to provide the most cost-effective solution. This has been the material of choice for shelving and racking for a very long time and will continue to do so but there are occasions where something else is required.
One area where we are seeing a different shelf material being requested is within newly built shopping centres or refurbishments where new sprinkler systems are being installed. These fire prevention methods combined with insurance company recommendations is leading to our retail customers asking for a new solution.
We have been aware of the need for sprinkler compliant shelves for some time now and have installed an number of solutions utilising steel wire decking.
The example here shows how the wire shelf is used on our popular Trimline framework, you can clearly see how in the case of a fire, each level allows water from the sprinkler to easily pass through to the level below.
This shoe retailer is located within the recently rebuilt £440m Westgate shopping centre and is one of over 100 shops within the 800,00 square foot development.
The photograph (right) shows the natural finish steel wire shelves that are also fitted within mobile stockroom shelving. This roller racking (again utilising our Trimline shelving system) provides high density storage that can store thousands of shoe boxes within a relatively small stockroom.
If your stockroom, warehouse or distribution centre needs to be sprinkler system compliant, please contact us for help and advice on 01993 779494.