Stockroom Improvements For A High Street Retailer
14 May 2012 | Jon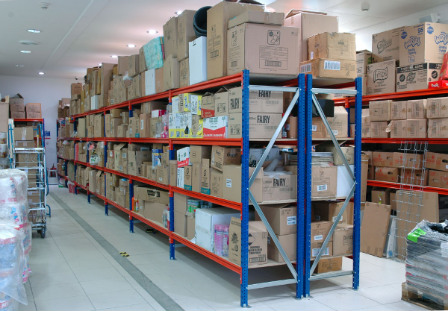 High street retailers offering everyday household products and groceries often have to cope with ever changing stock ranges and seasonal variations which can turn a carefully designed stockroom into a difficult to use and highly inefficient stores area.
Not all of our projects feature new installations, sometimes all that is required is a quick re-design, some minor shelf adjustments or in some cases just the removal of some racking to create usable floor space.
The example here shows a high street retailer's stockroom where we have recently removed some longspan racking to allow the storage of palletised goods on the floor. As you can see in the photographs, many of the products are stored on heavy duty racking and are within easy reach.
This particular customer found the increasing number of incoming pallets containing fast moving stock was causing serious usability problems for members of staff. Upon consultation with our design team the decision was made to remove an element of the existing racking to create dedicated pallet sections. This combination of racking and floor space proved to be the perfect solution for our client's current stock needs but if stock variations dictate a change later in the year, the racking can be easily re-assembled.
For more information on this style of stockroom solution call us on 01993 779494