Thinking Big With Longspan
9 September 2014 | Jon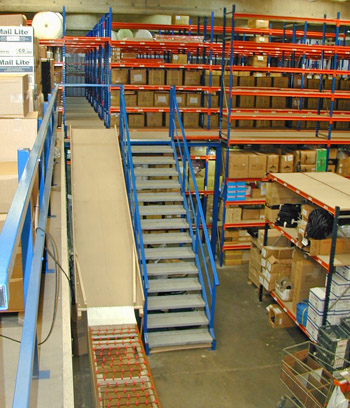 Here is a great example of how (with some careful planning) our longspan racking can be used to create large multi-tier storage structures.
This customer runs a very successful mail order business where there are thousands of product lines that need to be picked and packed as quickly as possible. Their continued success had put strain on their existing stores area and they looked to us for help with improving their warehouse storage area.
By using our longspan racking in a mezzanine shelving configuration, capacity is increased without the need to use remote storage areas or move into larger premises. All of the products remain housed within one central area that can be accessed quickly via a permanent staircase attached to the racking.
The clever finishing touch of a box chute next to the stairs allows staff members working on the higher level to stay up there for longer and negates the need for the dangerous task of travelling down the steps whilst carrying boxes of goods.
If you need any help 'Thinking Big' in your warehouse or stockroom please give us a call on 01993 779494.