Used Mobile Shelving Offer
8 September 2020 | Jon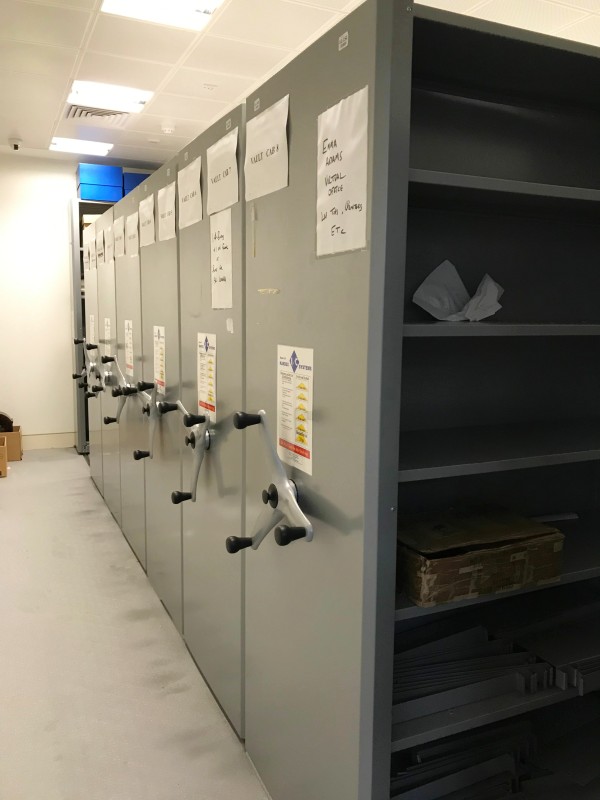 We have a rare opportunity to supply a substantial used mobile shelving system along with some office shelving and some heavy duty racks from a client who are vacating their offices. These units are too good to go to the scrap heap so we are offering the whole system as a complete storage solution.
The whole lot has to be out of the offices very quickly so a very lucky company out there is going to get a real bargain.
Some of the features of the roller racking, office shelves and static racking are detailed below along with a selection of photographs. Please contact us on 01993 779494 if you are interested in anything you see here or if you want to talk to us about a bespoke new system at very competitive prices.
Mobile 1 (Kardex Brand)
64 bays 2135mm high x 1000mm x 400mm – overall system size 10.4m x 4.4m x 2230mm high
7 mobile units 4000m x 800mm nominal
Mobile 2 (Kardex Brand)
70 bays 1875mm high x 1000mm x 350mm – overall system size 6m x 5.4m x 1960mm high
6 mobile units 5000m x 700mm nominal
Note: Both mobile systems are current and spare parts/new components are readily available
Kardex X2 Office Shelving Units:
The X2 units feature rotating double sided storage sections
2350mm high x 1100mm wide x 800mm deep
Rapid Racking – Rapid 1 shelving
Heavy duty rivet style racking
1450mm high x 915mm x 1830mm with 3 shelves