Versace Storage Solution In Westfield, White City
3 May 2012 | Jon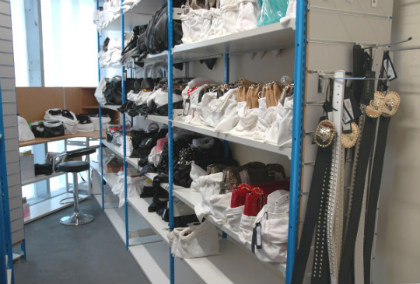 EZR Shelving have just completed a stockroom installation for the prestigious Versace store in London's Westfield White City shopping centre.
Versace are one of the world's leading international fashion houses and have been producing exceptional designs for over 30 years. With more than 70 boutique shopping outlets they have an impressive worldwide presence for their loyal and discerning customers.
The accessory store located in The Village in Westfield, White City carries the Versace range of high quality designer handbags, shoes and belts.
This store room's compact dimensions required the EZR design team to call on their many years of experience to create a slimline racking system that used every available inch of storage space. The racking in the photograph opposite shows the bespoke corner preparation table (complete with ergonomic cut-out section) incorporated into the shelving to allow employees to comfortably work with the stock. Each rack end was finished off with slat wall panels to enable a selection of belts to be stored within easy reach, this created useful hanging space in areas that are often wasted.
EZR's Trimline boltless shelving units fit perfectly within such a confined stockroom, the slim profile of the posts help to reduce the impact on usable floor space whilst the Melamine shelves help to keep the valuable stock clean and protected throughout everyday use. Each shelf can be easily adjusted to cope with new lines or seasonal stock variations as and when required.

This style of flexible racking is increasing in popularity with retailers who want to make the most of the available space in their stock rooms. EZR's modular shelving system lends itself perfectly to this type of application, providing industrial levels of strength at affordable prices.
Retailers of any size or scale can benefit from the improved storage features that these systems have to offer. Contact EZR Shelving today to find out how to improve your retail stock room on 01993 779494.