Westfield London Opens 30th Oct 2008
22 October 2008 | Andrew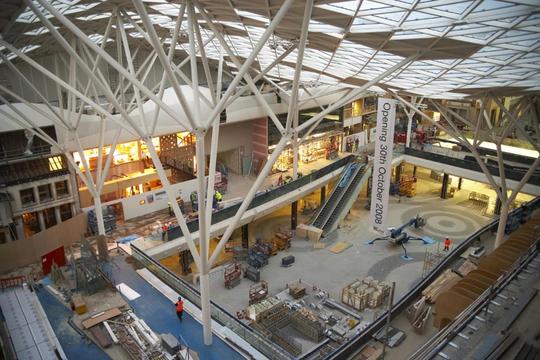 EZR is working with many of the retailers that are about to open stores at the new Westfield Shopping Centre at White City in London being opened by Boris Johnson on 30th Oct 2008.
This new shopping centre covers 43 acres in Shepherd's Bush and will be the third largest in the UK with 270 retailers, a retail floor area of 150,000m² and parking for 4500 cars.
With an opening date of 30th October, the site is now running 24 hours a day and is a logistical challenge for the 150 shop fitters and thousands of contractors working hard to meet their handover dates.
The photo above shows the central mall area with just 7 days to go!
EZR is supplying stock racking solutions for a number of retailers including garment hanging, shelving and roller racking to increase stock density and reduce leasing costs.
With the cost of retail space close to £100 sq/ft it's vital that the back of house areas are well designed to accommodate the necessary staff facilities and stock capacity.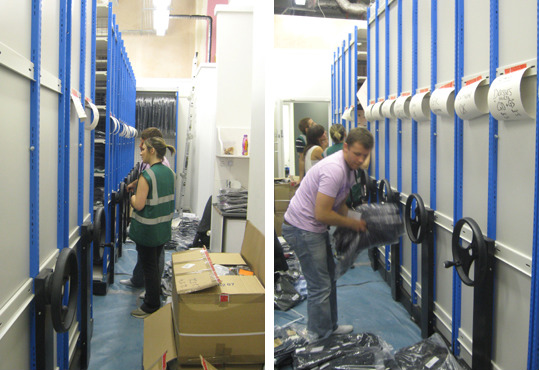 The stock room is often overlooked and this space can sometimes be better utilised by increasing stock density. Reducing the stock room size can free up valuable floor space and generate additional retail space.
The photo (left) shows a roller racking system being loaded, which provides 1000 linear metres of shelving capacity in a stockroom of only 500 sqft.
Call us to discuss how we can save you space in your retail stockroom or other storage area.
Take advantage of our free site visits and stock capacity analysis by calling 01993 779 494 or email: sales@ezrshelving.com
Below are some more photos of the activity inside the mall one week before opening!