Wire Shelving Solution For Wellsway School Sports Hall
22 February 2013 | Jon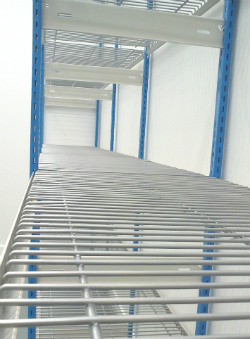 EZR Shelving are pleased to announce the completion of a storage solution for the newly opened Wellsway
School Sports Hall. Opened in January this year, the new sports hall gives students and local residents access to first-class facilities that include a state of the art fitness suite, dance/activity studio and full changing room facilities.
EZR were tasked with providing a cost-effective shelving solution that could be used for storing sports equipment. Wire shelving was selected for its strength and durability and was used throughout this 1st floor store room. Wire shelves simply slot into standard Trimline shelving beams and retain the same adjustability of standard chipboard shelves.
The photograph here shows how the shelving hugs the perimeter of the room to create a large central space perfect for several people to use at the same time. 8ft high shelving bays in two different widths were utilised to provide the maximum storage capacity in the room, even the narrow alcove could be used thanks to the wide range of shelf sizes available from the starter and add-on bay system.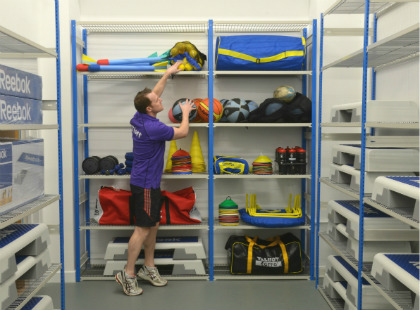 Initially this store room will be used to store a large quantity of 1 Metre wide step units and general sports equipment, the easily adjustable shelves will ensure the store room will quickly adapt when new equipment arrives in.
EZR Shelving have been providing schools, colleges and universities with high quality storage solutions for many years.
If you have a need for some new storage equipment please call 01993 779494 or email us for further information.