Industrial Roller Racking Phase 2 For DLR
17 December 2015 | Jon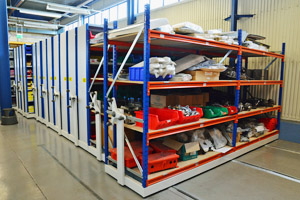 After a successful first phase of mobile racking conversion, the DLR service depot at Beckton decided to mobilise their entire central stores area.
All of the remaining static racking units were mounted to EZR mobile chassis bases, creating even more space-saving industrial roller racking.
When all of the existing shelving units were converted to mobile, enough floor space was saved to incorporate some extra heavy duty racking bays. EZR longspan racks were chosen for their wide spans, extra deep shelves and high load capacity. Long span shelving is ideal for storing bulkier parts as well as awkwardly shaped items like hoses.
With the completion of this second stage, there are now many thousands of spare parts, fixings and sub-assemblies condensed into one central stores area. Sourcing an item is just a matter of walking down the central aisle, locating the correct run and simply turning the relevant handle to gain access.
This industrial storage project provides a great example of how the same EZR mobile chassis base can accommodate vastly different types of shelving and racking. This makes for a very cost-effective solution that can be configured to suit many different storage requirements in factories and engineering environments.
For further information regarding mobile storage racks or heavy duty shelving solutions, please contact EZR on 01993 779494.