EZR 2-Tier Wire Mesh Shelving Solution
28 July 2012 | Jon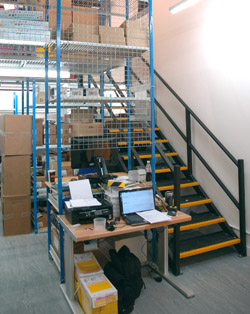 Demand for the EZR range of wire mesh shelving systems is increasing dramatically, this new found popularity is mainly due to the needs of retailers who need to comply with ever more stringent fire and sprinkler rules laid down by insurance companies.
Replacing timber or steel shelves, wire mesh shelves fit perfectly on to EZR Trimline beams to create a sturdy shelving structure that is still easy to adjust to accommodate variations in stock and allows greater sprinkler penetration in the event of a fire.
Stockrooms are often full of cardboard, plastics and other flammable components that are a significant fire risk, wire shelves on their own can't prevent the breakout of fire but when used in conjunction with an appropriate sprinkler system, the impact of a fire can be greatly reduced.
The example shown here is a two-tier mezzanine shelving system that is essentially extra-tall shelving with a suspended walkway and a staircase to provide access. This installation greatly increased stock capacity for the customer by using all of the available stockroom height. The simple cost-effective solution of building upwards to create a mezzanine storage level without the need for a separate structural mezzanine floor, allows significantly more stock to be stored within the stockroom.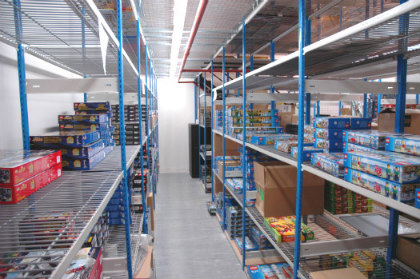 Open grid flooring uses the lower level racking as a structural support, this type of flooring was specified to aid the sprinkler system's effectiveness but also has the benefit of helping to create a naturally well lit stockroom, reducing the need for expensive, high capacity lighting systems.
To comply with regulations, this two-tier shelving system had sprinklers at ground floor level and EZR worked closely with the designer and contractors to coordinate a seamless installation. The photos above and below show how intricate the Trimline shelving system can be, working around air conditioning pipes, electrical cables and other obstructions is no problem when slim uprights and beams are combined with a comprehensive site survey and some clever design work.
Raised aisle shelving does not normally effect the building's rateable value but does require building regulations approval and if required this can be included as part of the project.
Take advantage of EZR's free design service, the design team can incorporate a similar 2-tier mezzanine shelving system into just about any high-ceiling stockroom so long as a clear headroom of around 4 metres is available.
Contact EZR Shelving today on 01993 779494 for further information.