EZR Reaches High at St Davidís 2 Cardiff
14 December 2011 | Andrew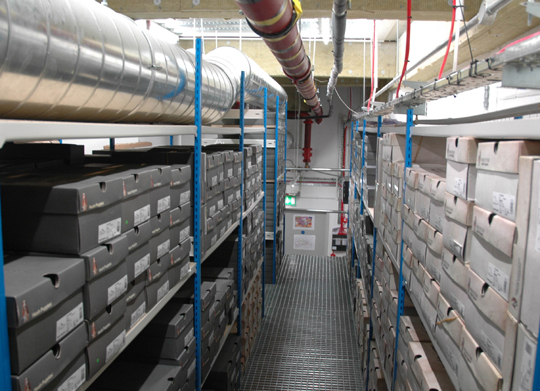 EZR Shelving's Mezzanine Shelving System solved Hush Puppies' storage problem at their new store at St David's Shopping Centre in Cardiff.
EZR designed and installed a raised aisle Two-Tier shelving system making full use of the available stockroom height to maximise the storage capacity.
A stock capacity of 6000 shoe boxes was required in a stockroom space of only 40m2 and EZR Shelving's mezzanine shelving system exceeded this, providing a box capacity of over 6300 units.
EZR's Trimline shelving has a frame and beam construction, which combines strength with a slim profile for maximum storage capacity. Storage shelves are fully adjustable to suit varying stock sizes.
Working closely with the shopfitter, EZR designed the raised aisle shelving system to fit around the A/C and sprinkler services and the resulting solution fitted perfectly as can be seen in the photographs; with ducting running along one side of the shelving, leaving the other side free for stock.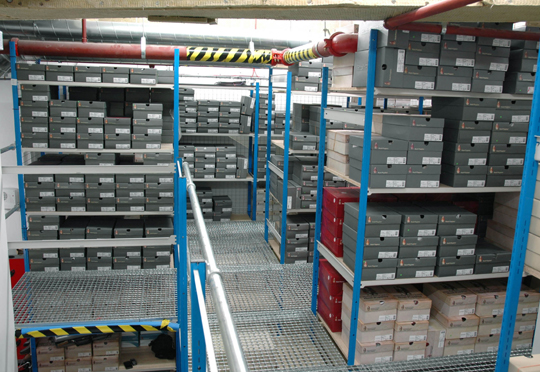 Raised aisle storage systems are ideal for retail stockrooms when the headroom is over 4m. There was a column in the middle of this stockroom, which did not cause a problem as the system was built around it!
Open grid flooring was used for the walkways, which requires less lighting at ground floor level and provides an early warning system for smoke in the event of fire.
Two-tier shelving is simply tall shelving with a walkway suspended half way up, and a staircase added to provide access; it's not as expensive as you might think and we'd be please to give you a budget cost for your stockroom.
Mezzanine shelving requires building regulations approval and we can take care of this if required as part of the project.
Call EZR on 01993 779494 to discuss your stockroom storage requirements.