Is Your Existing Racking System Safe?
9 January 2020 | Jon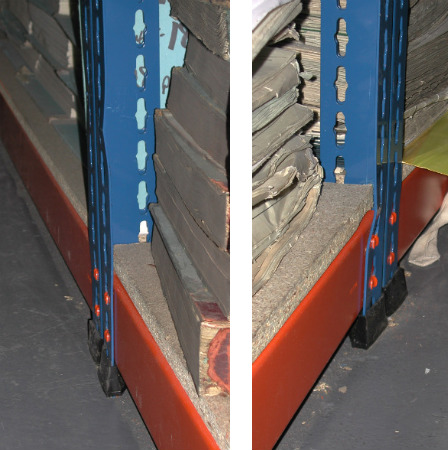 Many of our racking systems are installed to replace existing units to either create more usable space or to replace racking that has become unstable due to poor design and/or excessive loading.
The racking system shown in the photographs demonstrates how important it is to get the design and specification right from the very start. The simple task of storing paper documents is no problem for general racking and shelving systems but the high density of paperwork being stored here creates high shelf loadings, causing the whole storage structure to become overloaded.
This example depicts a competitors racking solution that was capable of holding 400kg per shelf but their design team hadn't foreseen that all of the shelves were going to be used to the absolute maximum - resulting in major structural failure.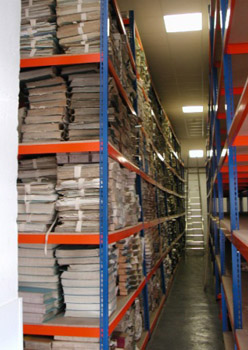 A ream of paper typically weighs 2.5kg, each shelf shown is carrying approximately 400kg in total, so being 6 shelves high each bay is carrying around 2.4 tonnes. The 7 bays of racking on the brink of collapse here are actually carrying nearly 17 tonnes of paper!
This particular client should have chosen racking designed for industrial use like our E-Z-RECT Type 1 system, this uses tubular posts and super-strong end frame structures that are capable of handling these kinds of loads.
We advise you to make sure your racking is checked regularly and inspected closely for any damage, paying close attention to the condition of the uprights and the deflection of the beams. If you are concerned that your existing racking system isn't strong enough please give us a call so that we can advise you on the best course of action – we don't take chances!
We now offer a service that can fully check your racking and shelving structures. Call us on 01993 779494 for further details.