Pigeon Holes For The Guru Nanakh Sikh Academy
26 June 2013 | Jon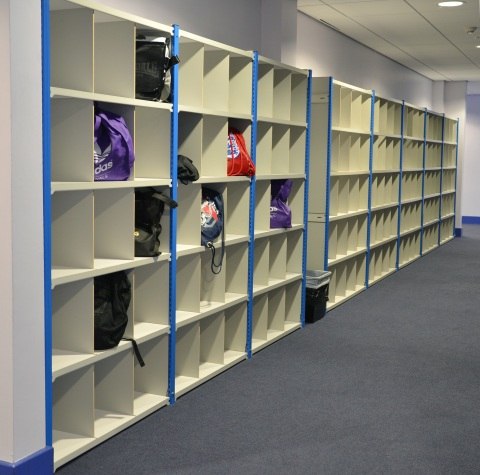 Another high quality EZR school storage solution has just been installed for the Guru Nanakh Sikh Academy in Hayes, Middlesex.
This installation solved a particular problem the school was having with pupil's school bags cluttering the hallway outside the dining hall. During discussions with our design team, the academy expressed the importance of finding somewhere to store the bags up off of the floor but for them to still remain close enough for the pupils to access them if required.
EZR's pigeon hole system was selected as the best solution in this instance, strong Trimline shelving bays with melamine shelf levels are divided into pigeon hole segments via full length panels, this creates perfectly sized storage areas that are easily capable of holding school bags of all shapes and sizes.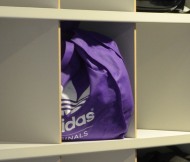 The finished 145 capacity pigeon hole school shelving system is located inside a corridor adjoining the dining hall and is finished with attractive grey panels to match the passageway colour scheme. The 6ft high shelving was supplied in two different widths to ensure an accurate fit within the wall space available. With an installed cost price of just £10 per pigeon hole location, this type of solution is very cost-effective and has many varied applications.
The pigeon hole shelves retain the same bolt-less height adjustment found in all Trimline shelving, this flexibility means that if there is a need to store larger items such as musical instruments or sports equipment then shelves can be easily moved up or down or even removed as and when required.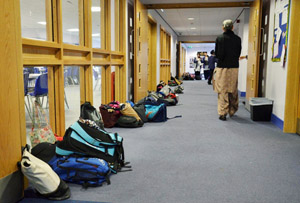 The photo here shows a typical day in the school before the storage solution was installed, as you can see the bags are strewn across the floor - partially blocking doorways and restricting corridor access. In these times of strict health and safety rules you can see how the academy have been wise in choosing to solve the problem before a serious incident occurred.
This is just one of the many school storage solutions designed, supplied and installed by EZR shelving, if you have a storage requirement within a school, college or university please call 01993 779494 for a design consultation and a free quote.
More detailed information about this project:
System:
E-Z-Rect Trimline Shelving
Weight loading per shelf:
130kg (UDL)
Shelf Board Type:
White melamine faced chipboard
Pigeon hole size:
W300 x D400 x H325mm
Bay sizes used:
H1830 x W950 x D400mm (overall)
H1830 x W1260 x D400mm (overall)
Run lengths (as shown in main photograph)
Section 1: 2905mm
Section 2: 6340mm
A range of different bays sizes and pigeon hole configurations can be supplied.