Sports Storage Solution For St Mary's University
9 February 2016 | Jon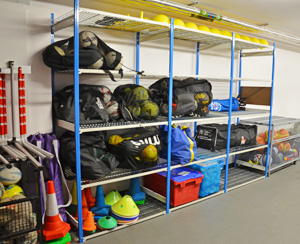 Another high quality educational storage project has just been completed by EZR Shelving. This solution was for St. Mary's University in Twickenham who needed to improve their sports equipment storage area.
St. Mary's are one of London's top performing sports institutions, the university has connections with some of the UK's best sporting talent and is well known for having world class sporting facilities.
With such a wide variety of sports to cater for, the amount of equipment and accessories required is quite substantial. Everything from footballs, rugby balls, cones, hurdles, netball hoops, skipping ropes, goal nets, flag poles and even rolls of artificial turf have to be accommodated in their main equipment room.
Before EZR were called in to help, the stores equipment room had become what looked like a general dumping ground for all of the equipment. The photo below-left shows just how bad things had got, with no logical storage layout the room was in a complete mess and barely usable in its previous state. The last thing you need when setting up the next sports session is spending 10 minutes searching for that last tennis ball or red cone!

The 78 linear metres of racking installed by EZR Shelving helped to create organised storage sections that lift the majority of the equipment and boxes off of the floor. This has the added benefit of encouraging the correct return of the items after use.
An important component of this solution is the wire mesh decking that is fitted to many of the shelving bays. As much of the equipment stored on the shelves is being used outdoors, residual moisture could have been a problem with standard chipboard decks. Wire mesh shelves allow any water to drain off and they provide a natural airflow that lets the items dry quickly and naturally.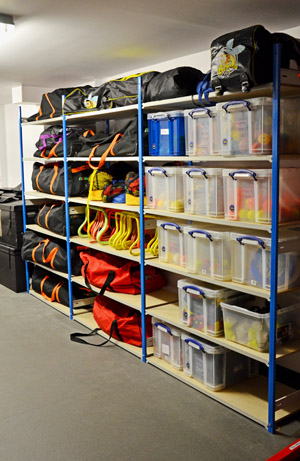 Trimline shelving with its slim profile posts and beams maximise the storage potential of any given space. Although the room could have been completely racked out along the full length and width, care was taken to ensure enough room was spare to easily store the existing containers, trolleys and other larger items.
The size of the shelves were chosen to perfectly match the collection of 35 litre Really Useful Boxes that were currently in use. Using plastic boxes for storing loose items is a good idea but without dedicated shelving they tend to get stacked in a dis-organised manner.
When stacking boxes in this way you will commonly find that the one thing you need in a hurry is typically in the bottom box of a tall stack. Meaning all of the upper containers have to be removed first and then re-stacked afterwards - very time consuming! Having each row of boxes on a single shelf (as shown here) allows every box to be accessed straight away without the need to disturb any of the others.
An integrated lockable steel cupboard for valuable items was the final part of the solution, contributing to a very organised and tidy sports storage area for the University to make the most of in the coming years.
Contact EZR today on 01993 779494 to find out more about a wide range of school and educational storage solutions.
Related articles: Storage Shelving For Wellsway School Sports Hall