Stockroom Shelving Safety Checks
4 May 2022 | Jon
Stockroom shelving or racking systems are typically very stable and secure when first installed but it is important to regularly monitor the condition of your shelving to ensure safe operation. This is especially true when changes are made to the original installation by retail staff who may not be aware of how simple changes can (in certain circumstances) seriously affect the structure and integrity of a racking system.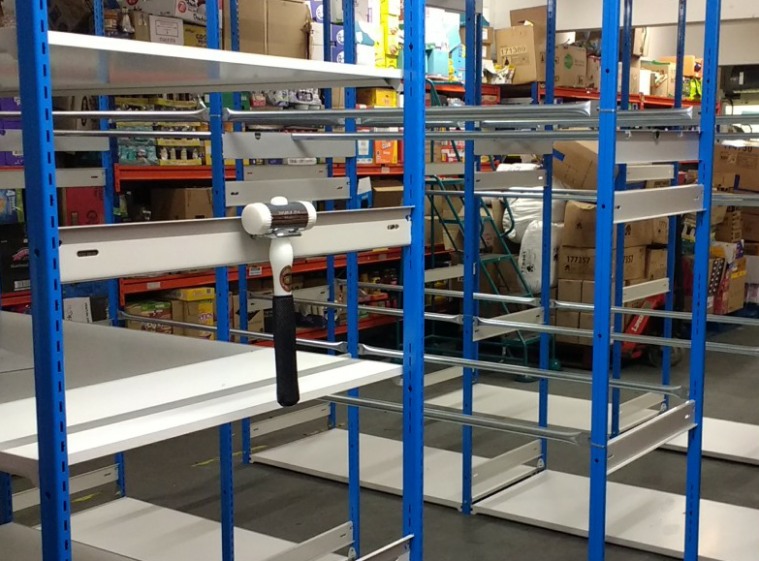 EZR Shelving recommend the following regular safety checks for your stockroom racking, some of these checks are specific to our Trimline and Type 1 systems but many of the principles here are transferable to other shelving systems.
Wobble test – The framework of the racking should be strong enough to cope with a mild push and pull on the main posts without any serious wobbling occurring.

Inspection of beams - Ensure all beams (cross members that support shelves or tubular rails that fit directly to posts) are located securely at both ends.

Inspection of hanging rails – The tubular rails that sit within the centre of the shelving must be located correctly within their housing and should have minimal horizontal play, the housings should also be checked to ensure that they are fixed to the posts correctly.

Shelf boards – Where chipboard or MFC shelves are installed, each one should be sitting level upon correctly installed beams.

Overall condition – Components should be free from damage. All posts should be standing perfectly straight in the vertical position, beams and rails should sit perfectly at 90 degrees to the posts.

Fixings – Where floor and/or wall fixings are used to secure the racking, ensure that the screws/bolts are still present and have not become loose.

Missing shelves – Check for unusually large openings between shelves or a missing shelf or beams very close to the top of the racking.

If any of the above inspections highlight any potential problems or if you have any doubts concerning safety please contact EZR Shelving (or your supplier) as soon as possible.